The Raven Lord by Labreris
Quick Share



With the release of the comic about The Raven Lord, I wanted to recreate him in HotS with a kit. Here ya go. The Raven Lord's playstyle involves him commanding his ravens to deal damage, and using them in conjunction with his abilities to shield himself or engage on enemies.
Stats:
Health
: 1500 (+4.0% per level)
Mana
: 490 (+10 per level)
Auto-attacks:
Damage
: 50 (4.0% per level)
Range
: 5.5
Attack speed
: 1.0
Combat Trait

1
Raven Call
Casting abilities spawn a raven at your location. Raven attacks heal The Raven Lord for 50% of their damage. Ravens last 16 seconds.

Raven stats:
Health: 5 (Can only take 1 damage per attack)
Movement speed: 130%
Attack damage: 38 (+4.0% per level)
Attack speed: 1.0
Primary Abilities

1
Cloak of Shadows
30 Mana | 10 Second cooldown
Sweep your cloak in a cone in front of you, dealing 144 (+4.0% per level) damage to enemies hit.
You and any allies or ravens hit by the cone gain stealth for 6 seconds.

Ravens hit also have their duration is refreshed.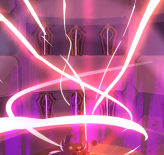 2
Pin Down
60 Mana | 14 Second cooldown
Send down a beam of eldritch energy in a small area, dealing 199 (+4.0% per level) damage and rooting enemies hit for 1 second.

If an enemy hero is hit, all ravens fly to their location at 150% speed and target them.
3
Raven Storm
30 Mana | 6 Second cooldown
Consume all active ravens to gain a shield with health equal to 100 (+4.0% per level) health per raven consumed. You also gain an aura that deals damage equal to 22 (+4.0% per level) damage per raven consumed. Lasts 4 seconds.
When the shield is broken or expires, it will deal damage equal to 100% of the damage dealt when it was active up to a maximum of 355 (+4.0% per level) damage.
Secondary Abilities

1
Focus Ravens
Passively, ravens remain near you, flying to attack enemies that you attack or that approach you.

Target a location or an enemy unit. All ravens fly to this location, attacking if its an enemy unit. Targeting yourself causes ravens to be passive again.

2
MINDGAMES
Activate to become stealthed and unrevealable for 1.5 seconds and spawn a clone of you at your raven flock. Can only be cast if you have 3 or more ravens in the flock.
Cooldown is shared with Lord's Entrance.
Heroic Abilities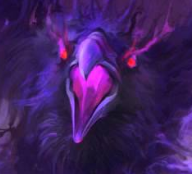 1
Dead of Night
80 Mana | 60 Second cooldown
Transform into a giant raven, becoming untargetable and fly forward in a straight line, dealing 180 (+4.0% per level) damage to all enemies hit. Additionally, for each hero hit, you summon a raven.

Enemy heroes hit also deal 50% less damage for 3 seconds.

2
Curse
No mana cost | No cooldown
Passively, tributes spawn around the map every 30 seconds. Tributes are collectible to you. After gathering 3 tributes, this ability can be cast. Tributes always spawn at a fixed distance away from you. Being out of combat and moving towards a tribute grants you 15% additional movement speed. Stacks with mount speed.

Unleash a shockwave at your location, dealing 99 (+4.0% per level) damage to all enemy heroes hit. Enemy structures hit by this shockwave are disabled, and enemy minions are reduced to 1 health. For each hero hit by this shockwave (enemy heroes AND allied heroes), you spawn a raven.
Effect lasts 20 seconds.
Special Mount

1
Lord's Entrance
20 Second cooldown
Instead of mounting, The Raven Lord can teleport to his raven flock.
Target an area, if there are 3 or more ravens inside, channel for 0.75 seconds and teleport to the location. Very long range.
Talents
Level 1

Tier 1


Carrion
Whenever a nearby enemy dies, an active raven is healed for 1 health.

Dark Speed
If you have more than 3 active ravens, you gain 15% movement speed.

1
Raven Hive
Toggled ability | 15 Second cooldown between toggles.
Toggle to cause ravens summoned to instead be stored. Stored ravens' duration is paused. Max 3 ravens stored at once.

Level 4

Tier 2


Furious Storm
Gain 30% movement speed while Raven Storm is active.

Thunder
The cooldown of Pin Down is reduced by 2 seconds
!quest: Hit heroes with Pin Down
Reward: After hitting heroes 10 times, the range of Pin Down is increased 50%.
Reward: after hitting heroes 20 times, all ravens are instantly teleported if an enemy hero is hit.

Grievous Cloak
Increases the size of Cloak of Shadows by 25%

Level 7

Tier 3


Raven Familiar
Gain a permanent active untalented raven.

Expose Weakness
Casting Focus Ravens on a target below 50% health doubles your ravens' damage against this target for 3 seconds. This effect has a 10 second cooldown.

Level 10
<Heroics>

Level 13

Tier 5


1
Mind Games
Activate to become stealthed and unrevealable for 1.5 seconds and spawn a clone of you at your raven flock. Can only be cast if you have 3 or more ravens in the flock.
Cooldown is shared with Lord's Entrance.

Lightning Rod
Casting Pin Down on yourself while Raven Storm is active causes the shield to explode early, dealing 20% more damage and rooting all heroes hit.

Level 16

Tier 6


Nevermore
Whenever a hero dies, spawn a raven at their location.

Level 20

Tier 7