Heroes Ability: Rite of Rak'Shir
Rite of Rak'Shir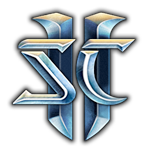 Alarak's
Rite of Rak'Shir
Rite of Rak'Shir (Talent)

Cooldown: 300 seconds

Activate to mark an enemy Hero for 300 seconds.

Hitting the marked Hero with Discord Strike increases Sadism by 3%. Killing the marked Hero increases Sadism by 5% and lowers the cooldown of Rite of Rak'Shir to 10 seconds.

Sadism gained from Rite of Rak'Shir is lost on death.

Heroes Wikibase Navigation