*Talent builder is bugged so the build is down here...:uthermeh:
Hi everyone! What did I miss?
Quoted:
Cassia Patch notes
Talent changes since rework buffs
Talents:
Level 16
Power Strike [Q]
Additional functionality: Heroes hit by Lightning Fury reduce its cooldown by 1 second.

Really nice buff making

Power Strike a realistic alternative to

Static Electricity for the Q throwing maniacs.
Level 7
Surge of Light [Active]
Damage reduced from (300) to 240 (since rework)
Damage taken amount required to activate increased from 500 to 650.
Developer Comment: "Surge of Light continues to dominate Cassia's Level 7 talents, and has become a prime reason to take the hero..."
SoL is a fourth ability of course it's going to dominate a talent tier and nerfing the damage doesn't change that fact. Oh, and yeah, we only play Cassia because of a level 7 active talent lmaooo

The devs are trying so hard to nerf SoL into balance instead of having to again rework/re-order the level 7 talent tier. I would not be surprised if they continue to be unhappy with the data and move SoL up to level 13 or 16 and if that happens...yikes.
Level 1
Charged Strikes [Passive]
Bonus Attack Speed reduced from 20% to 15%.
Bonus Basic Attack damage reduced from 20% to 15%.
Straight nerf to AA build.
Level 4
Plate of the Whale [Trait]
Bonus Health Regeneration reduced from 7 to 6.
Bonus Health Regeneration when fully charged reduced from 14 to 12.
Nerfing the inferior sustainability option at 4... LULW
Build #1 Hyper Carry: 1,3,3,1,1,2,4
Basic Combo

Lightning Fury
>
Ball Lightning
>

Blinding Light
>

Surge of Light
>

Fend
>

Lightning Fury
Go toe-to-toe with any assassin, Big 1v5 potential; Super aggressive playstyle
-
Alternative 1:

Impale
is not only a very strong finisher to combo with cc, but also a great gap closer for those slippery heroes. Yes! Cassia can now catch more heroes she couldn't before!

Teleport

Shadow Waltz

Vault
-

Thunderstroke is so strong against mages and squishies right now
- ALWAYS FULL CHANNEL FEND FOR

War Matron
. Being Protected during and 1 second after is extremely necessary to stay alive in the middle of a team fight.
-

Inner Light
How can you say no to a 25% heal
-

Static Electricity
lightning bolts will proc

Inner Light
CDR
-

Rockstopper
for diving or when getting focused.
- Sustain Combo:

Inner Light
>

Lightning Fury
>

Fend
>

Inner Light
(Aim for max Lightning bolt procs with Fend for max CDR) and keep an eye on it mid-fight
-

Static Electricity
Become a spear throwing machine with 4 charges. After 16, just focus on poking the backline
-

Static Electricity
helps a lot with taking camps. Pretty easy to solo now with Blind + SoL + a million Qs
The goal of this build is to target and kill backline assassins. Poke them down with

Lightning Fury
and once they're low, burst them with a combination of
Ball Lightning
,

Fend
, and

Surge of Light
. The new changes to

Inner Light
can keep Cassia healthy and

Avoidance
allows her to get into the backline without sustaining too much damage. The problem this build has is overcoming additional enemy healing on the target, or if the target has some form of self-healing or shielding (This is reflected in the Threats section above). You have to commit to get kills but if your damage is not enough because of enemy healing, sustain, or shielding then you'll end up feeding a bunch of deaths.
Secret Build #1.5 Power Strike Lightning God

Build #1 but take

Power Strike at 16 and follow these two steps
Step 1: Stack 2 marks with

Power Strike
Step 2: Proc 3rd mark and start combo
Combo:
Ball Lightning
>

Surge of Light
>

Lightning Fury
> AA (maintain distance for BL) >

Blinding Light
(re-blind) >

Fend
>

Lightning Fury
> Second
Ball Lightning
(

Infinite Lightning
)
Insane
Ball Lightning
damage and value by keeping the enemy blinded and the ball bouncing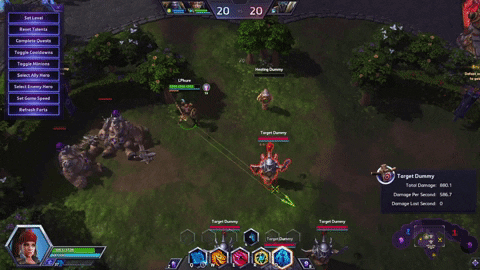 Higher quality
Build #2 Basic Attacks: 3,3,1,1,3,3,3
Destroy Tanks and Bruisers; sit-back and get your damage playstyle
-

Martial Law's 3% increase it not further increased by 20% from

Blinding Light nor does the increase to 3% affect any healing from

Ring of the Leech
- Super strong late game at 16 and 20. Her AA damage shreds Tanks and Bruisers
-

Inner Light is much better than

Ring of the Leech. The 25% heal is so good it transcends any specific build synergy.
-

Grounding Rod is necessary to proc

Martial Law. If you don't take one, don't take the other.
This build capitalizes on having a strong basic attack, which is good, but in order to get damage you need to continue attacking over a period of time. Because your damage comes from attacking over a period of time, you need to be alive and within range to continue doing that damage. By not having any mobility, don't be surprised if you get jumped aggressively while trying to get your AA damage by heroes like

Imperius

E.T.C.

Orphea
Li-Ming