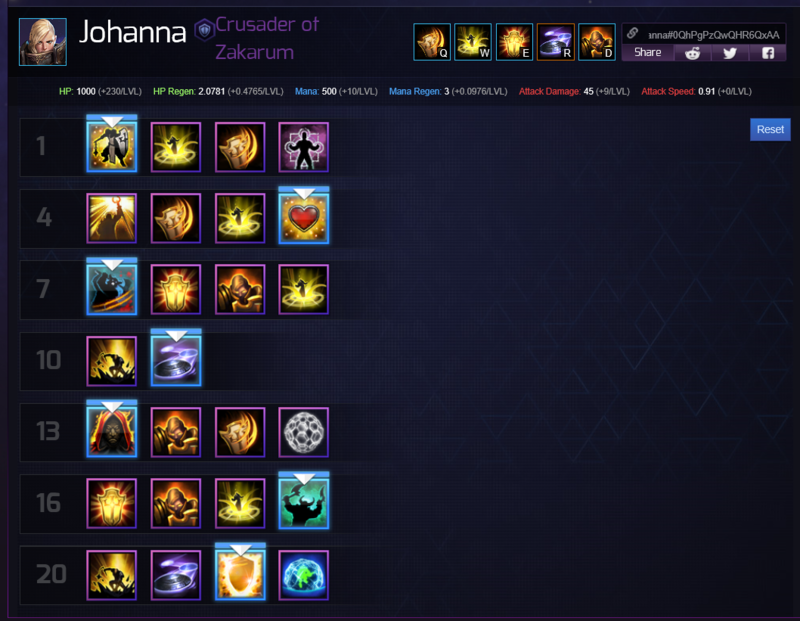 Hello Everyone,
Not a whole lot to say about myself. I'm new to the MOBA genre with HoTS. I'm a huge MMO and Dungeon crawl fan, and with my love of Blizzard I took a leap of faith into Heroes. I'm loving it so far and have a character level of about 134 as of writing this. I have a lot of experience with a vast majority of characters, and being a huge Diablo fan, I was saving up for Johanna.
My day one impressions are as follows:
Pros
Top Defensive Character
Great Kill Generator in team situations
Amazing Escape-ability
Iron Skin is Amazing
Cons
Low Damage Output
Weak in 1v1 unless out-leveling the other team
Low performance in a poor group
Level 1
Top Pick - Reinforce
- Basic abilities reduce basic attacks against you by 50% and stacks twice
- Big fan of this ability. I tested it against building up strong regen and it's no match. The only other viable choice for the way I play is regeneration master, but it is out performed by reinforce.

Level 4
Top Pick - Laws of Hope
- Regen Passively, activate for a self heal
- An incredible skill that can really turn the tide of battle. You get natural regen, and a boost of health. Keep in mind you are really hard to kill, you can delay the fight a bit, pop this ability then charge right back in. I have toyed with Amplified Healing as a secondary choice, but honestly nothing competes with Laws of hope. You would need a strong healing presence to counter the benefits of laws of hope, and I'm not even sure that's enough reason to pass up on it.
Level 7
Top Pick - Battle Momentum
- Basic attacks reduce abilities by 0.5 seconds
- Grants ability cool downs on basic attacks. This means more condemn, more punish, and more shield glare. This means more control in the fight, and more disrupting the enemy. This is a strong level for picking talents. I personally like Sins exposed for added damage on shield glare as a secondary option, but once again the added benefit to getting more abilities out seems to be stronger.
Level 10
Top Pick - Blessed Shield
- Deal damage and stun the first enemy hit for 2 seconds, it then hits two additional enemies and stuns them for 1 second.
- I have to say this is a no brainer. In reading some forum posts, I've seen some love for falling sword, but I feel like falling sword does no damage, and has no significant impact on a fight. Stuns are Stuns, and this one is good for a lot of reasons. It has some range, does added damage, and is great when trying to flee and being chased. This one will save your life at times, and also target an enemy hero to take down in a group fight.
Level 13
Top Pick - Burning Rage
- pulsate aoe damage
- Honestly this is a tough tree. Hold your ground is a very viable option to boost up Iron skin, but I currently feel like this build has great survivability so the added damage is nice from burning rage. It's passive as well, so you don't have to think about it as you play your class and get into the thick of things.
Level 16

Top Pick - Imposing Presence
- Enemies that attack you have their attack speed slowed by 50%
- This is a tough level to pick a talent. Nothing in this tree really overwhelms me. I'd say i'm most willing to say this is a toss up. Fanaticism is also very good and adds to your survivability as it gives you a speed boost when hit while using iron skin. Both are strong. I like this one because it can get you that extra time needed to take an enemy hero down in a group fight.
Level 20
Top Pick - Indestructible
- Upon taking fatal damage, gain a shield equal to your total HP for 5 seconds
- Just when they think your down, you still have some fight in you. If you have a healer, this means avoiding death if they are ready to pull you up. Strong talent for continuing the fight.
I will add more to this guide as the site updates with Johanna's built in template. I will also add more details as I continue to play her and experiment.
As this is my first guide, I look forward to any feedback - don't beat me up too hard!!