Author
I am Highwalker, I've been playing Heroes of the Storm since Alpha. My background is in League of Legends, which I played since Beta, with multiple seasons finishing Gold. I have worked for Solomid as an Author and Moderator.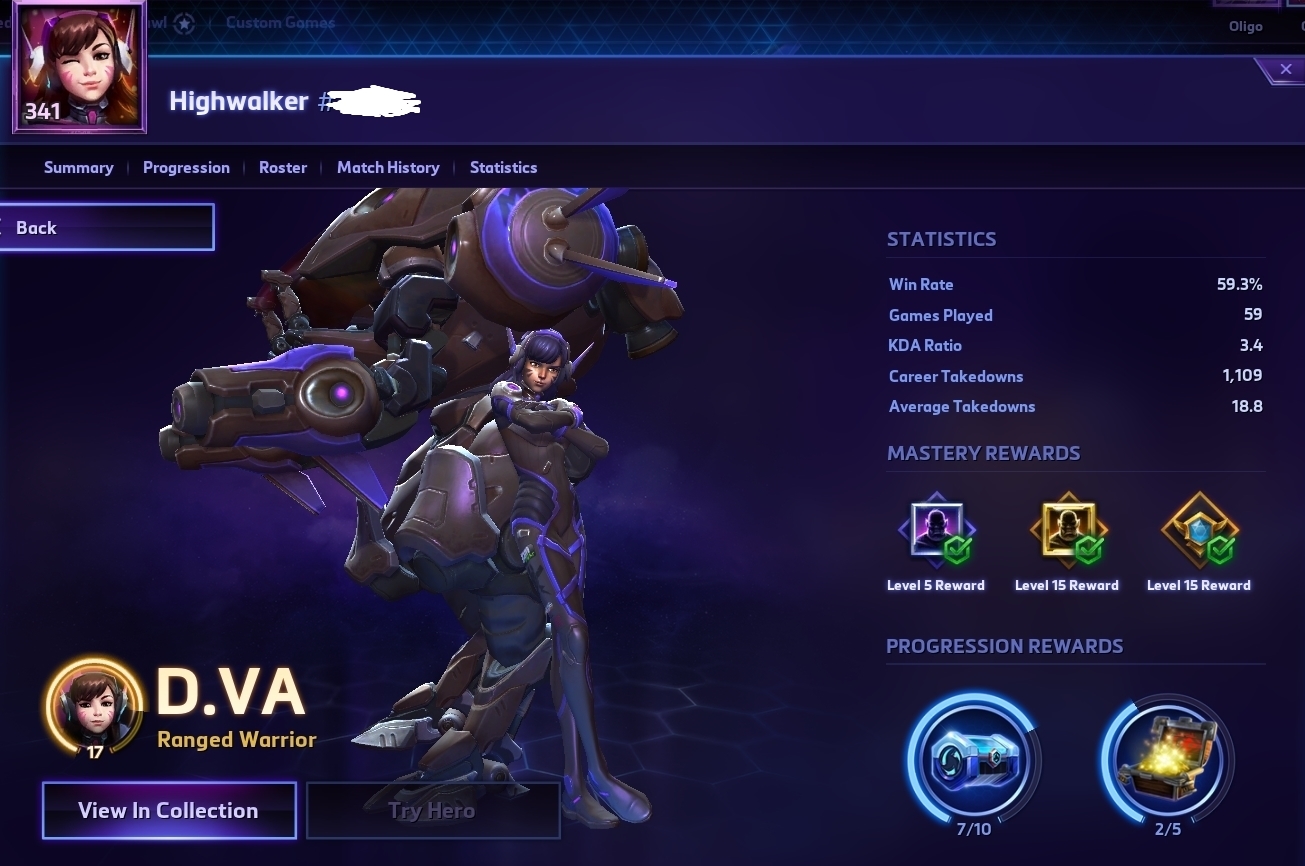 Guide Release:
May 26, 2017
Hero

D.Va
is my absolute favorite hero in Overwatch and her introduction to HotS left me with a renewed love for the game. Not that she is anything spectacular, simply that I love everything about her. Her attitude, her voice, her story, the way she plays, and her emojis.
D.Va embodies both of my favorite and most played roles, Warrior
Mech Mode
and Assassin

Pilot Mode
. Though she doesn't offer any hard CC she does have a very useful kit for saving fellow heroes, both with her knockback from

Boosters
and the damage mitigation from

Defense Matrix
plus the optional slow on Matrix from the Tier 3 talent Dazer Zone. This paired with her zoning ability from

Self-Destruct
make her a worthwhile hero, though not a main tank. In pilot mode you essentially sacrifice 50% health for 50% damage. Initially pilot mode lacks anything aside from an auto-attack (which is deceptively strong) and no mobility, with a 45 second cooldown to

Call Mech
. This is one of the reasons D.Va is fairly weak early game. D.Va's strongest in the lategame with full talents, far and beyond her early game capabilities. Getting caught out of position in pilot mode early game is almost an absolute guaranteed death. This will bring us to the first chapter.
D.va's two heroic options

Big Shot
and

Bunny Hop
are what essentially set the two builds apart.
Pros
D.Va is one of the best zoners in the game
D.Va's pilot build has very high dps potential
D.Va is a lategame hero, with very high potential at level 20+
D.Va has two health bars, one in Mech Mode, one in Pilot Mode
Cons
D.Va is a bruiser, not a main tank
D.Va is extremely vulnerable in pilot mode
D.Va struggles early game
D.Va has mediocre waveclear